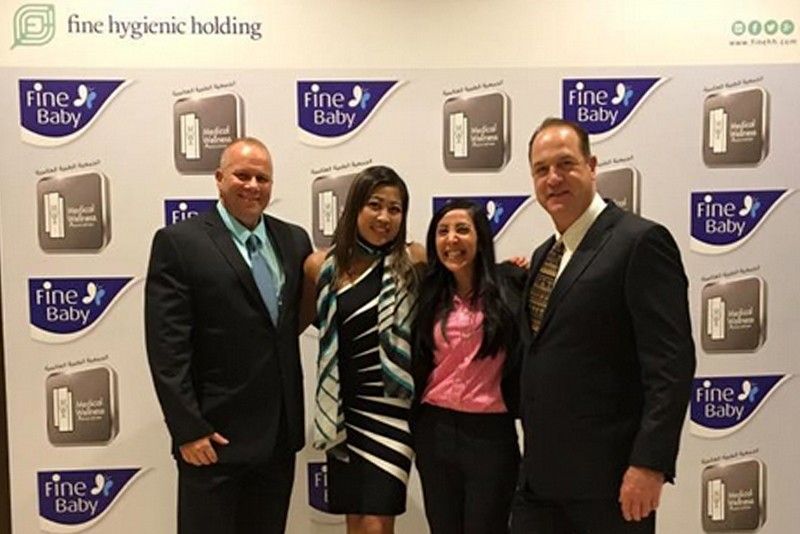 Author James Michael Lafferty and wife Carol with Medical Wellness Association president Dr. Christopher Breuleux and Rawan Emeish, director of Fine Baby, at a corporate wellness event.
Over the past two weeks, I have consulted with different companies in Cebu, Manila, Dubai, and Paris. All had one common thread: in each case, the concept of employee wellness programs was front and center of the agenda.
There is no doubt the concept of employee wellness has moved from fringe into the mainstream of leading companies in the world today. I guess this fact has more or less lulled me into a complacent view that offering competitive employee wellness programs is a no-brainer and obvious if you want to attract, retain, and ensure optimal productivity of great employees.
How wrong this assumption has been.
There is a whole raft of companies out there that still don't see any compelling reason to adding employee wellness into their roster of offerings; who implicitly state, "We try to offer as little as possible to people; just the bare minimum to keep them working," who simply don't get it. It's quite shocking, frankly. But when you boil it all down, every day new companies come along and old companies fade away. It's evolution. And the companies that still can't figure out the fact that employee wellness is a must-have element of any effective HR system — well, they are on their way to joining the dinosaurs on the extinct list, even if they don't know it yet.
It's hard to know where to begin on this topic.
Let's put aside for a minute the fact that millennials, by the day, represent more and more of the workforce, and they care about employee wellness: 72 percent of millenials exercise regularly and 95 percent care deeply about their health, as reported in a study by HR guru Dr. Rajiv Kumar. The data further indicates this generation is more than willing to give up a chunk of pay simply to find a workplace that helps them juggle work/life balance better. Millennials are everyone's future for employees. You want to win with them? Wellness is a ticket to just be in the game!
But let's put this aside for a moment.
Let's also put aside the argument that offering an employee wellness is "the right thing to do." Yes, we can all understand the logic that employees are a company's most valuable asset, that taking care of employees is hence the right thing to do. I couldn't agree more. But let's just park this whole line of reasoning on the side.
Let's make this argument about dollars and cents. About pesos and centavos. Let's just turn this whole question into a simple business case: Do employee wellness programs pay out? Do they provide a rate of return? Let's just look at it based on the financials and treat it like any other kind of business investment.
Let's look at the hard numbers across several key metrics:
Healthcare costs: When I was CEO of Procter & Gamble Philippines in 2008, I was shocked to find during a detailed cost review that the single, fastest-growing cost in our entire company was healthcare. In fact, for three consecutive years, the costs had risen year-on-year over +20 percent annually. It was, frankly, spiraling out of control, and this was in a market where outstanding and affordable healthcare was readily available. Can you imagine the equivalent impact in a far costlier healthcare market such as the US or Western Europe? Suddenly, ramping up our employee wellness programs to new levels became a top priority! Why? Well, because the data is irrefutable: Researchers at Harvard University, in a review of 36 separate employee wellness programs, found that for every $1 invested in employee wellness, company medical costs fall by $3.27. That's an amazing return ratio of over 3 to 1! How many promotions or new products deliver such a return on investment?
Productivity gains: It's a well-documented fact that exercise and wellness have "brain benefits" ranging from better mental acuity to warding off Alzheimer's disease. Hence, multiple studies have shown that production-line employees who are enrolled in employee wellness programs experience lower rates of assembly errors — up to 80 percent reductions!
This is a key driver behind General Electric's award-winning wellness center at their GE Aircraft Engines operation in Cincinnati, USA. Assembly mistakes on jet engines are a costly endeavor indeed. And all of this plays out in the Harvard study. On a productivity basis, every US $1 invested in employee wellness led to a return of $2.73 in terms of employee productivity. It's a quite impressive return that my personal experience supports.
When we installed the first-ever fitness center in P&G Poland in 1998, a multi-year study showed that enrollees went from taking an average of 8 sick days/year, down to 3 sick days/year post-enrollment. Knowing how regular exercise strengthens immune function, none of this is surprising. But getting people to be able to work an additional +5 days per year makes employee wellness an easy payout.
Dr. Christopher Breuleux is the president of the Medical Wellness Association in Houston, Texas, and arguably one of the world leaders in the area of employee wellness. He puts it rather succinctly: "The correlation between the world's leading companies, those most admired, and their commitment to employee wellness is crystal-clear. Employee wellness has fast become a basic fundamental for any organization wishing to compete globally against the world's finest companies, and desiring to recruit and retain the best talent and optimize their performance. Employee wellness has moved in the past 20 years from 'nice to have' to 'need to have.'"
So, ignore employee wellness at your own peril. Keep your head in the sand if you want. Maybe it will work out.