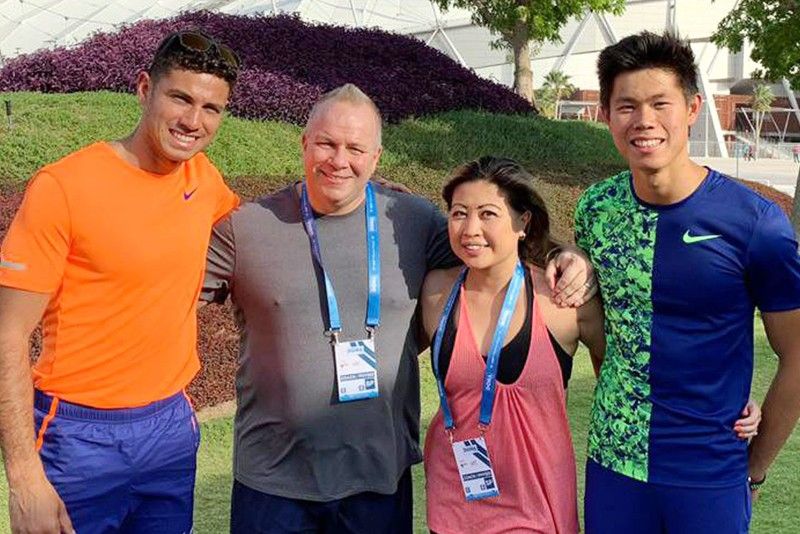 Author James Lafferty and wife Caroline with Philippine pole vault champion EJ Obiena (right) and 2016 Olympic gold medalist Thiago Braz in Doha, Qatar, last week
The Philippines sure loves sports, and enjoys a rich sporting legacy. From Paeng Nepumuceno becoming the first athlete to win world titles across four decades, to Manny Pacquiao becoming the first boxer to win world titles in eight weight classes, indeed the Philippines has left an indelible mark on the sports world.
There is, however, one title that eludes the country — a global "badge of honor" among nations — and that is the ever-elusive Olympic gold medal. The Philippines shares this uncomfortable crown with Bangladesh as the two largest countries in the world (in terms of population) to not have won an Olympic gold. It's a crown we eagerly wait to toss into the trash bin!
Having been deeply engaged in Philippines sports for over a decade, it's very clear what the underlying issues are. It's not a matter of having talented, dedicated athletes. In so many sports, the Philippines is hyper-competitive and capable of winning gold medals. Our athletes slave away in the heat and for rudimentary wages, often underequipped and yet they persevere. We have dedicated local coaches who care and who strive to apply best practices and training methods. We have dedicated sports administrators in the NSAs who put their life and own money into helping their athletes. No, these are not the sources of the problem.
The problem is singular: money.
You see, sports have become a means for nation building. Sports have thus become a focus and priority for countries and sponsors. China famously invested over $65 billion in the 2008 Olympics as a signal of their arrival on the world stage. Money is poured into sports, bringing the best thinking and approaches to coaching, diet, strength training, sports psychology and talented athletes, so that countries can build credibility and pride on the world stage. All this takes money. And this is the big issue.
What's big money? Well, the annual budget of swimmer Michael Phelps, for all his coaches and staff and training and travels around the world to elite competitions, exceeded $3 million per year! When British Heptathlete Jessica Ennis won gold in 2012, her budget was $100,000 per month! Even the tiny country of Jordan, with a mere 9 million people, supported their first-ever gold medalist Ahmed Abughosh in taekwondo in Rio 2016 with a special budget from the palace of $20,000 per month to win.
Let's take Abughosh as the low example. If we want to win gold, we must be competitive with the investment others are making. We can't dally around the fact that "money talks" and as sports become more focused and more scientific, it takes money to finance expertise and training and ultimately compete. And herein lies the issue for the Philippines.
No case highlights the disparity our Filipino athletes suffer more than Ernest John ("EJ") Obiena's. You won't find a finer young man in this world today. Humble, kind, considerate, hardworking, EJ grew up in a sports family. Born and raised in Tondo, a student at UST, he's a standout pole-vaulter, holding the National and SEA records once held by his father. When I think of the greatness of the Philippines, I think of EJ Obiena. As a coach, as a fellow human being, I wish I could clone the kid; he's that special! What a joy to work with.
EJ has been blessed. He had good coaching and mentorship in his family, and was awarded a scholarship five years ago by the International Federation of Track and Field (IAAF) as an under-21 vaulter to attend training camps in Italy with the legendary Vitaly Petrov, the 81-year-old Ukrainian coach who has guided athletes to eight Olympic gold medals over the decades. Nobody knows pole-vaulting better than Petrov.
Under Petrov and training part-time in Italy with many top vaulters, EJ has progressed year-on-year and consistently kept re-establishing new national records. He gradually climbed into the top 100. Then top 50. Then top 30 in the world.
EJ suffered a devastating tear of the ACL ligament in his knee 18 months ago. Many felt he would never recover. It was a freak accident just before the 2017 SEA Games, where he was expected to compete for gold. He underwent surgery and a grueling rehabilitation process. Of course, he missed the 2017 SEA Games and missed medaling.
Because he missed the SEA Games, his monthly allowance, already a measly and globally uncompetitive P21,000 a month, was unceremoniously cut to a mere P12,600/month. Do we really think this will compete with the world?
A few weeks ago, EJ traveled to Doha for the prestigious Asian Championships. All the years of working with Petrov, all the grueling rehabilitation paid off. He became our first Asian champion in 15 years, beating out a pair of world-class vaulters from China for Gold, and set a SEA and Meet record. He not only vaulted to victory, but vaulted himself into the top 10 in the world! He is currently ranked number 7! This qualifies him for the elite "Diamond League" track-and-field series held in cities around the world, showcasing the top 10 in each event. It's a huge honor and EJ is now battling against the very best, the guys going for gold in Tokyo in 2020.
Every day is a mental struggle for EJ. He not only worries about competing and training, but also about paying the bills. His IAAF scholarship ran out once he turned 21. He is on his own to keep training in Italy with Petrov, who is working for free in coaching EJ, but is not happy about it and won't go on forever. EJ somehow travels to meets, borrowing money from family, and donations out of pockets of gems like Philip Ella Juico, the president of PATAFA, who pays from his own money in the absence of formal support.
Last week was the first Diamond League meet of the season in Doha, Qatar. For the first time in history a Filipino athlete qualified and there was EJ among the top 10 in the world, at the tender age of 23. My wife Carol and I flew in to support him, as EJ could barely pay for himself to go, let alone pay for a ticket for his coach Petrov. He didn't want to be absent from providing coaching assistance on the world stage.
EJ did the Philippines proud. He briefly was in first place and ended up an incredible fourth place out of the top 10 vaulters in the world, including the Olympic gold and bronze medalists from 2016! Finishing in the top 5 automatically qualifies EJ for the next Diamond League meet in Stockholm in four weeks. He wants to go and keep fighting for Philippines and to keep mixing it up with the best. But he wonders how he can afford a plane ticket and to ship his poles to Sweden.
Upon request, EJ developed a "bare bones" budget for how much he needs monthly to train in Italy and keep competing and go for the gold in Tokyo. He should, after all, stay with a coach like Petrov, who believes in him and has led him to be top 7 in the world! EJ sharpened his pencil and figured out the cheapest way to live, sleeping on couches, with a minimal salary to Petrov. His budget came to the shockingly low figure of 3,833.80 euros a month. This is equal to P223,189! That's it. It must be the lowest price in the world! That's the cost of a gold medal in Tokyo. And somehow, we can't give it to him. We are paying foreign coaches more than this each month, who are delivering nothing in terms of results. Let's stop paying overpriced coaches and start paying EJ what he deserves to win. It's the cheapest gold-medal plan on the face of the earth!
When in Doha last week with EJ at Diamond League, I sat and chatted with the coach of Thiago Braz, the Brazilian gold medalist from the 2016 Rio Olympics. Thiago is in top form and aiming for another gold medal in Tokyo. I asked the coach, "What are the things that keep you up at night in terms of Thiago repeating as gold medalist?"
His answer left me speechless. "My biggest worry is this young stud Obiena. If he ever gets support, he will be unstoppable. I worry if he gets the backing he needs, he will own the gold medal for the next several Olympics." Brazil sees it. Potential. A gold medal within our grasp! But somehow our sports leadership does not.
EJ went to Doha airport just the other day to fly out to meet his coach and train hard for Stockholm. At the airport, the airline decided to give him a tough time and charged him $800 if he wanted to send his poles as well. How useful is a pole-vaulter without his poles? EJ has less than $200 to his name and is standing at the counter wondering what to do. Is this any way to win a gold medal?
I read story after story of how we will support our top athletes. How we will fund them properly. Grandiose statements. All talk.
EJ Obiena, alongside Hidilyn Diaz, are the two leading medal candidates for Tokyo. We have a potential gold medalist on our hands!
I just have one question for the sports leadership: "Where's the money?"