"100 years from now, it will not matter how much money I earned; how big my house was; or what kind of car I owned. Yet the world may be a different place because I was important in the life of a child".
---
This has always been James' favorite inspirational quote.
James has always been about keeping perspective. Despite the accolades and honors, the fame or the money, recognize what is important. James was famous during his P&G days for saying, "Folks, keep it in perspective. We sell soap for a living. It is not that important".
Successful people have an obligation to give back, to share their good fortune and make the world a better place.
James has had a soft spot in his heart for children, from an age when he could barely be called "An adult". Starting as a volunteer coach to inner city youth in his hometown of Cincinnati, Ohio during high school, as well as being a "Big Brother" to fatherless youth as a 16 year old, James found a passion in giving back, sharing his luck and good fortune.
He has consistently supported charities and NGOs primarily aimed at investing in our future—the children. He has also followed his passions for specific issues like blindness (based on the inspiration of his dear friend, Erik Weihenmayer, the only blind man to summit Mt. Everest) and Alzheimer's Disease, which took the life and memories of Celeste Elizabeth Karch Lafferty, James' mother.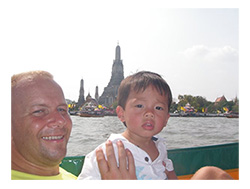 What is telling, James gives far more than financial support and writing a check—he gives his TIME. Nothing is more apparent than his investment in the Filipino youth of tomorrow, by teaching entire courses, FREE, for 3 of the top Universities in the Philippines: University of the Philippines, Ateneo de Manila, and De Lasalle University.
And certainly James most lasting legacy of giving back is the decision to adopt a Filipino orphan, Kenji, when he already had 4 grown children and was in his mid 40's. What started as a 2 week assist to a local orphanage over Christmas 2007, blossomed into a decision to foster care, and ultimately adopt, Kenji as his son. As James humbly says, "Everyone thanks me for saving Kenji. But in reality, I can never repay Kenji for the joy he gives me."
---
Below is a partial listing of some of Jim's passions in giving back:

YMCA of Cincinnati, Committee of Management: Was appointed the youngest ever member of the board at the age of 19, in 1982. Served all the way through departure from the USA in 1991, and chaired multiple efforts including the "Sustaining fund drive" which raised money to finance inner city youth participation in YMCA programs free of charge. Jim also founded the "YMCA Striders" track club which became a national track and field power in the USA.
Casablanca American School: Was elected to the board of directors in 1993, and served also as chairman of the fund raising drive which raised over $9 Million to build the new school and facilities.
American School of Warsaw: Was elected to the board of directors in 2001 and established as Chairman the ASW Foundation, which raised money and provided scholarships to underprivileged Polish youth.

Alzheimer's Association: This is a personal subject for Jim, who's mother suffered and died from the debilitating effects of Alzheimer's disease. Jim was a board member in the USA from 1990-91 and established the "Memory Walk" program in Cincinnati which in it's first year set all fund raising records and has subsequently been an annual event and cornerstone of the association's fund raising efforts.

Kilimanjaro Blind Trust: Jim was an organizer and guide, along with Erik Weihenmayer (First and only blind man to summit Everest) and Paul Polman (CEO of Unilever) of record-setting summit of 5 blind climbers in 2005 on Mt. Kilimanjaro. To ensure a lasting legacy, the group formed the KBT in order to fund orphanages and braille programs for blind youth in east Africa, mainly in Tanzania and Kenya. Jim is a founder and board member.
Athletics Connection Nigeria: Jim founded and has funded in the early stages this wonderful effort, to award scholarships to talented yet needy Nigerian youth, to pursue thier studies in the USA and gain a lasting education thru athletic prowess. The hope is to expand this program to other African Nations, as a means to build the future leaders of tomorrow through education.
Jim has also served on boards and led fund raising initiatives for many charities including Special Olympics, Little Children's Home (Orphanage in Manila, Philippines), Blind students of Philippines, and many more.